This is a story about a girl and her tattoos.
I've been wanting to post something like this for a long time but haven't, in fear of being reprimanded. In my culture, having a tattoo means you are a delinquent, someone who causes trouble and isn't a good person. Basically, a criminal. Growing up, I've heard my father say many bad things about people with tattoos. One time while watching LA ink, he said that a person should be disowned in their family for having one. Being the rebellious daughter that I am, I fell in love with the art. I began with the removables... piercings. At the sweet age of 16, I himed and hawed over getting my belly pierced for nearly two months before dragging both my parents into Mr. Zebra's and finally getting one. Britney (yes, Britney Spears and her damn pepsi commercials) convinced me I needed it to be done. But this story isn't about getting piercings. This is a story about a girl and her tattoos.
For many years, I hid my first few tattoos from my parents. Silly little things they are... a girl's first tattoo. Usually something small, easily concealed, and probably involving a heart, star, flower, or in my case, a horoscope symbol. But I'll get to that one later. Over the years, the collection grew, becoming more and more elaborate and covering more space. Finally, on my college graduation day, it happened... My parents confronted me about one of my tattoos. Since then, I had been less and less inclined to hide them, but still fearful of the disapproving looks my dad gave me every time he saw them.
But I'm not ashamed anymore.
They have become a part of who I am. And this is MY blog for goodness sakes and I will write about anything and everything I love. Including the art that's permanently marked on my body. I want to share with you the stories of my tattoos. Each with a story of its own. Sometimes meaningful, sometimes not. So please, feel free to continue reading if you like. It won't hurt my feelings if you don't.
For those who don't have tattoos, I will answer your first question right away: YES. Getting a tattoo hurts. Depending on where you get the tattoo, how elaborate the artwork is, and your pain tolerance, if you decide to get inked, it will hurt.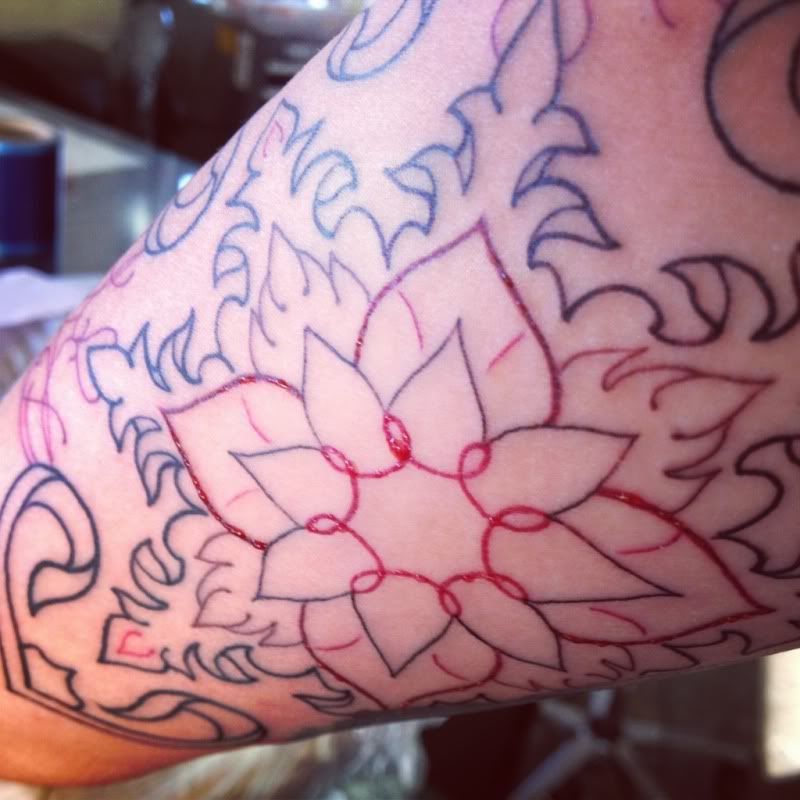 My most recent art piece was no walk in the park. A mandala, done by the talented and awesome Kai Smart located at Chimera Tattoo in Santa Cruz. This woman will permanently mark you with some of the most original and beautiful things I have seen with my eyes. Check out her work
here
. This piece especially really doesn't have a meaning. It was inspired by her other artworks and by my Thai culture. I wanted it more to fill in the void of emptiness that was left when the rest of my arm was covered. (Gasp! She has a whole sleeve?) Yes, that is correct. The inside of my arm happened to be the one space my eyes would directly look at when I saw my bare arm. Pretty annoying when you ask me. (One of my many pet peeves about tattoos, incomplete work, especially on myself.) So, I had Kai fill it up with art.
There you have it. The first chapter to my story. I promise the following chapters will not be quite so lengthy. And if you stuck around to read this post until the end, I give you a high five! I hope I can open your eyes to the art of tattooing and hopefully rid the world of this negative connotation that people get when seeing people with tattoos. If you have any questions at all, write me in the comments section below.
xoxo